Copyright 2013 © Asilda Wine - All rights reserved
Timble and Thyme, LLC, 801 N Scott Street, Carlton, Oregon 97111 | Phone (503) 476-9443 | asildawines@gmail.com
Asilda Pinot Noir is handcrafted from the grapes of the Yamhill-Carlton AVA in the northern Willamette Valley, Oregon. The grapes of the region are capable of producing world class wines. The grapes are black-purple in color which produces a vibrant magenta to aubergine colored wine. Asilda is made from a blend of Pinot Noir Clones to produce an upfront full mouth flavor followed by a full finish.
This well balanced wine is less acidic than wines from other AVA's and contains fruity notes variously described as blackberry, cherry, espresso and dark chocolate. The scents from the wine include rose, violet, lavender and an underlying earthiness.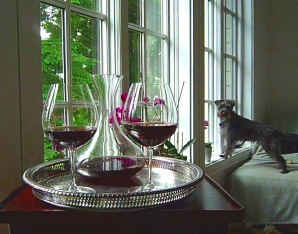 The wine cellars well and reaches maximum flavor in 3 to 5 years. It is however, quite drinkable after two years in the cellar. The wine has enough body to wonderfully pair with red meats, salmon and pastas.
Asilda wine is made by fully extracting the grapes to achieve maximum intensity of flavors. In that sense, it has more body and intensity than classical burgundies and is described by the owners as a wine that will even appeal to cabernet drinkers.
Asilda Pinot Noir, from the Yamhill-Carton district, has a perfumed, floral bouquet that is pure and seductive, lovely red cherries and fresh strawberry fruit. The palate is medium-bodied with supple tannin, great depth of fruit, a caressing texture and rounded spicy red berries on the long finish. What a gorgeous Pinot Noir. Superb.
RATINGS
2013 93 points Robert Parker
2015 93 points Vinous
2018 93 points PDWR

The 2018 Pinot Noir Blanc comes from mid-slope of the Timbale and Thyme estate in the Yamhill-Carlton AVA. Made from 100% 667 clone Pinot Noir, our intent for this wine is to emulate the style of a mineral-tinged, high-end Pouilly Fuisse (Chardonnay)…but with a Pinot Noir flair. To that end, the grapes were picked just as flavors started to evolve on the vine and then pressed lightly in order to not extract color from the skins. It was fermented with Chardonnay yeast, full malolactic fermentation, and then moved with the lees to stainless barrels after 12 months in neutral French oak. Time in stainless brought mineral and flinty, smoky elements to the pineapple, tart cherry, and subtle fennel on the nose. The palate stays bright and fresh throughout with good mineral tension drawing the palate to a long, mouthwatering finish.